Google Analytics has got to be the best deal on the internet. At no cost, it offers incredible insight as to how visitors are using your website. Simply create an account, add a chunk of code to your site and be enlightened.
At Agent Evolution, we use Google Analytics to help us make important decisions. From website changes to social media and email marketing campaigns, the stats presented in our analytics account guide our actions.
While dropping the stock code into your site and using the Google Analytics dashboard is good, we use a combination of a WordPress plugin and iOS apps to get more out of this amazing tool.
WordPress Plugin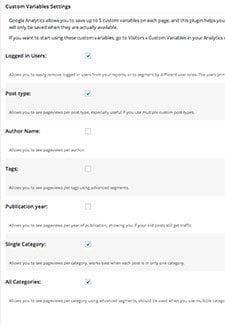 Google Analytics for WordPress
Free
Yoast has become one of the most trusted names in WordPress plugins. They offer many free and premium plugins that lead the industry, such as the WordPress SEO plugin.
Instead of adding the Google Analytics code to your site manually, download this free plugin and allow it to connect your site to your Analytics account. Doing this is much easier, but it also offers some additional features:
Track outbound links and downloads
Add custom fields for author, categories and tags
Automatic site speed tracking
Plus much more
iOS Apps
Many people would agree that the Google Analytics dashboard can be overwhelming at times. It offers so much flexibility that it can be difficult to quickly get the numbers you need on a daily or weekly basis.
To help with this, we use iOS apps for our frequent analytics tasks. The apps tend to provide a simpler interface that allows for common stats to be consumed more easily.
While there are many apps on the market, these are the ones we use on a regular basis.
Quicklytics (iPhone/iPad)
$6.99
This app offers quick access to charts showing your most common visitor stats. Click on the main graph to drill down by demographics, behavior or any of the other Google Analytics categories.
One absolutely addictive feature is the real-time states. Hit the timer icon in the top right corner and see who is on your site right now.
The iPad version of the apps uses the extra space well with a vertical column layout.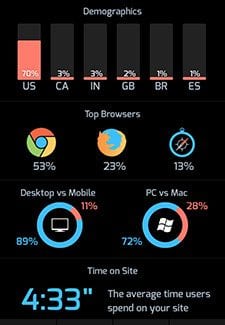 Analytiks (iPhone)
$1.99
Imagine Google Analytics presented as an infographic. That is exactly what Analytiks does.
Basic visitor stats are displayed in a clean and simple fashion. For daily use, there is no better app. You can get in, digest the numbers and move on with your day easily.
Don't forget to turn the app to landscape view to show a completely different chart.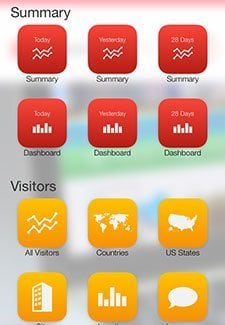 AnalyticsPro 2 (iPhone/iPad)
$7.99
The original Analytics Pro was a very powerful app. The redesign for version 2 adds more features and a beautiful user interface. With this app on your iPad, you may never go to the Google Analytics dashboard again.
Unless you are a power-user, this app will probably satisfy all of your analytics needs.
Listen to this post...