Surely you've received loads of emails over the past several weeks from companies saying they've updated their privacy policy or need to re-confirm your email address. This is all due to GDPR, or General Data Protection Regulation, established into law by the European Union.
Without getting in to the legalese of the law (spoiler alert – I'm not a lawyer), and while it may be annoying in the short term, ultimately the protections are in place to better protect you and your privacy online. So that's all great, but you may be asking yourself: What does that mean for me and what do I need to do?
This article will cover the basics of what is required of you as a site owner and the tools available in WordPress for you to ensure compliance. Again, a disclaimer, this should not be interpreted as legal advice; and, if you have any serious questions about what is necessary for your business, consult an actual attorney.
What is Required of Site Owners?
The GDPR itself is around 200 pages long, so it covers many aspects of online privacy and how businesses need to handle the personally identifiable information of their users. To put it in plain English, it means businesses must inform users of the information they collect and why it's being collected through the use of a Privacy Policy. Additionally, businesses must delete a user's account and unsubscribe them from emails if requested.
Is WordPress GDPR Compliant?
Yes, as of WordPress 4.9.6, the core software of WordPress is GDPR compliant and offers tools to help site owners move towards compliance. With that said, since websites vary widely, no platform can offer 100% compliance. The compliance process will depend on your business and how users interact with your website.
With WordPress 4.9.6 and above, you now have new tools available for you to utilize, including:
Comments Consent
WordPress uses cookies when a user leaves a comment on a post, so that when a user visits again their user information is automatically filled for convenience. Due to the consent requirements of GDPR, you must get the user's consent to store their information, so WordPress now adds a checkbox to ask the user if they want their information saved.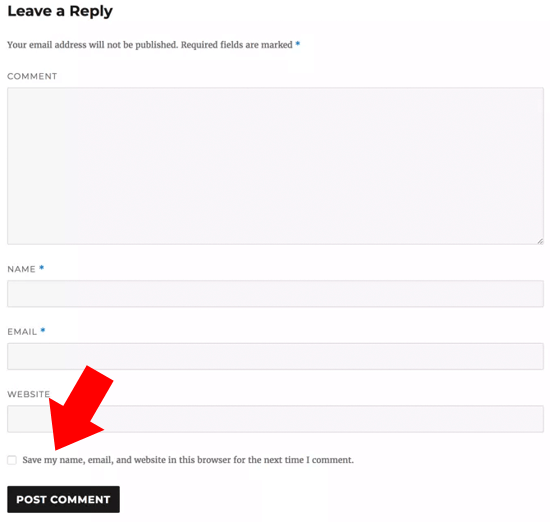 If your theme is not showing the consent checkbox, your theme may need updating. Also make sure you are logged out of your site or it won't appear.
Data Export and Erase Feature
With the requirements around data handling in the GDPR, WordPress now offers a tool to let you export or erase a user's personal data if they request it. These both can be found under the Tools menu in WordPress.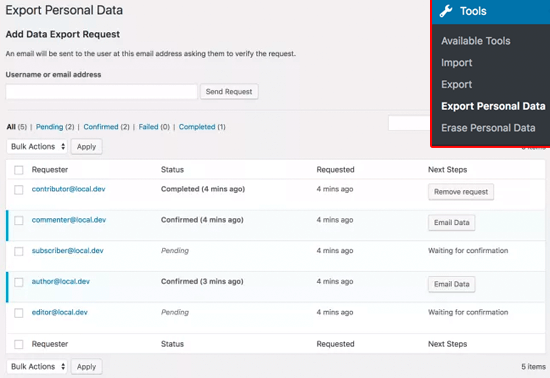 Privacy Policy Generator
One of the most useful new tools in WordPress is the Privacy Policy generator. It will create a pre-made privacy policy that covers how the core software uses cookies and will also suggest additional text that may be applicable for your website.
Also, plugins that store and transmit user data can hook into the privacy policy generator to add additional text that covers how their plugin handles the data.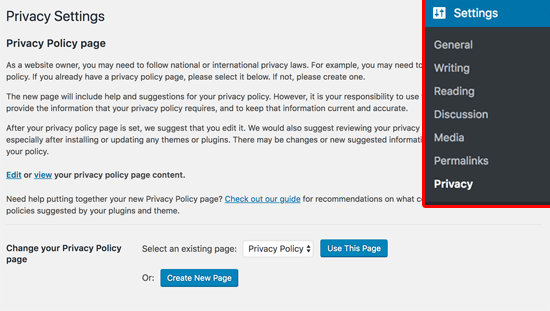 What Do I Need to Do?
These three new tools may be enough for the average WordPress site, but your website may have additional functionality that you need to consider. However, at the bare minimum, you need a Privacy Policy. So, we'll go over how to use the privacy policy generator to create the page and link to it.
Before you do this however, if you are a real estate agent, your brokerage may already have a privacy policy template or requirements for a privacy policy so check with them.
Creating a Privacy Policy
To create your privacy policy page using the generator, login to your WordPress site. Note: these steps assume you are using an Equity child theme; if using a different theme, the steps to add the link will vary.
Under the Settings menu, click Privacy.
If you already have a Privacy Policy page, you can select it here, or click Create New Page.
Review the page, add any additional required information, remove any irrelevant headings and Publish the page.
Copy the link to the new page, and assuming you want to place the link in the footer, navigate to Equity > Footer Settings.
In the section you want the link to appear, type Privacy Policy, then highlight it and click the Insert/Edit Link button and paste the permalink.
Click Save to save your changes.
If you are TurnKey subscriber and would like help with these steps, contact our support team through your site dashboard.
Wrapping Up
The GDPR has already gone into effect as of May 25, 2018, and it's unlikely your website is 100% compliant right now, but don't freak out. You're also unlikely to receive the scariest of punishments – a fine – as the EU states they will start with a warning, then a reprimand, and the fine is the last resort for willful negligence of the law. Just work towards compliance and everything will be fine.
In the end, the law is intended to protect you as a consumer. Being a business owner, protecting your customers should always be a top priority, so it can only help.
Listen to this post...