The popularity of podcasts is at an all-time high. Nearly one in four Americans listen to podcasts on a monthly basis. With those numbers, it makes a lot of sense for real estate agents to have their own podcasts. Using Amazon Polly for WordPress, building that podcast from a REALTOR® website happens automatically.
Harness the Power of Alexa
It is amazing how lifelike Amazon's Alexa sounds when reading the news or search results. There are pauses for breathing, changes in pitch, and rate fluctuations just like a real person.
Amazon Polly is a text-to-speech service that uses much of the same technology that makes Alexa so special. Feed Amazon Polly text and it will generate an MP3 audio file in your choice of voice and language.
Connect WordPress to Amazon Polly
It seems that Amazon had WordPress in mind when creating Polly. Teaming up with WP Engine, they developed the Amazon Polly for WordPress plugin. That plugin adds Amazon Polly to a WordPress website without touching a single line of code. Features can then be configured using a straightforward control panel.
Establish a Voice
Personalize recordings by choosing a voice. Amazon Polly offers a selection of male and female voices in various languages. Those voices can be tweaked by changing the speed and adding breathing pauses.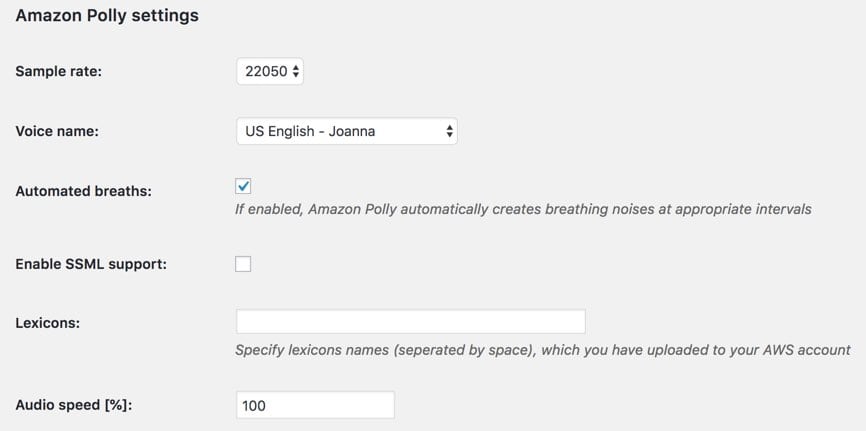 Store Audio Files
Once created, MP3 files can be stored in the WordPress media library or in an Amazon S3 bucket. Amazon Polly for WordPress requires Amazon S3 storage for many advanced features to work, so that option is recommended.

Publish the Podcast
Enable the Amazon Pollycast feature in Amazon Polly for WordPress to generate a podcast feed. Submit that feed to iTunes Connect for distribution. Tweak the feed by uploading an image and setting a category for iTunes.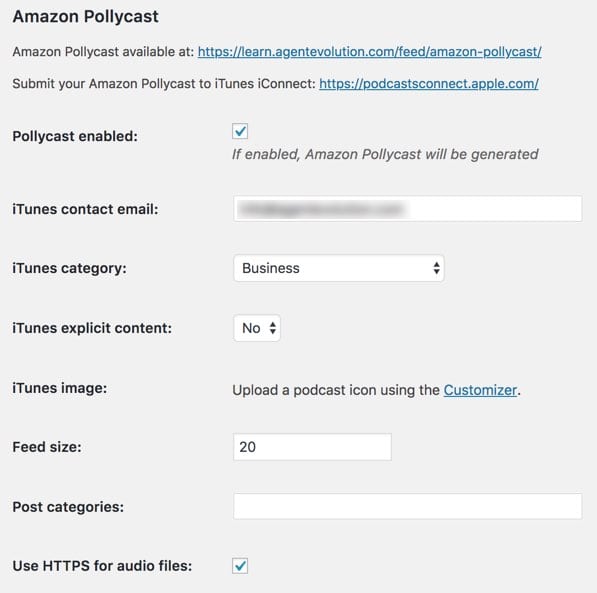 Go Global
Gain an international audience by offering podcast versions in Spanish, German, French, and Portuguese. Amazon Polly for WordPress integrates with Amazon Translate to generate audio files in multiple languages. Choose a dialect and voice that best suits the target audience.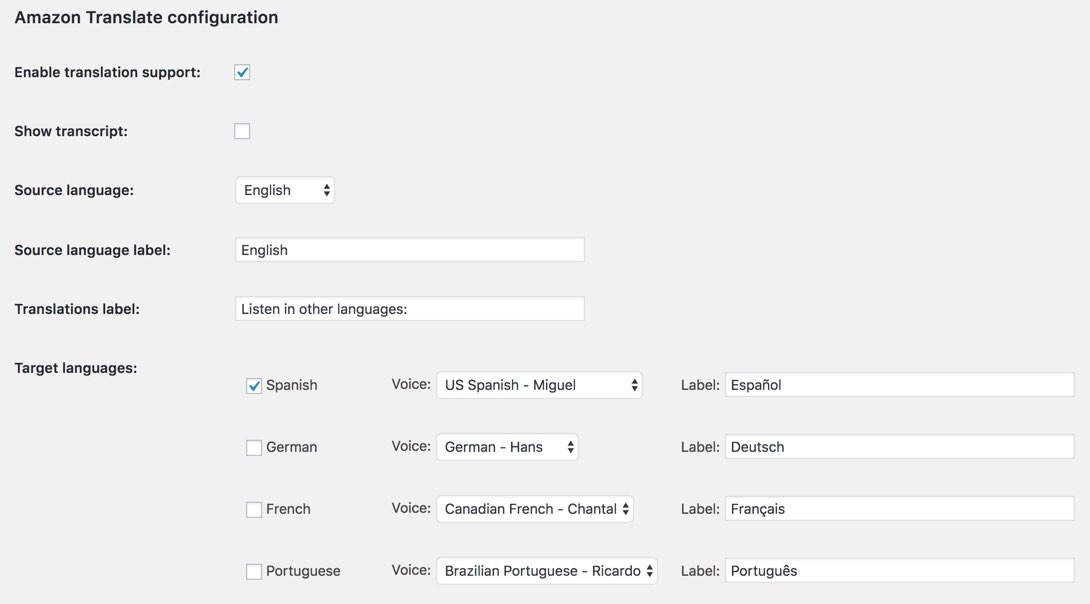 Pay Amazon (Maybe)
As with most Amazon AWS services, pricing is confusing. Fees are based on usage, and forecasting monthly get and put request charges is a daunting task.
Amazon does offer a Free Tier for the first 12 months. This plan should cover the typical real estate agent website.
After the free period, fees will incur for Amazon S3 and Amazon Polly usage. Amazon S3 charges are based on storage space and requests. Amazon Polly charges by the number of characters converted into speech. In most cases, these charges won't amount to more than a few dollars a month.
Get Started
By far, the toughest part of the installation is getting the Amazon IAM user configured properly. The correct privileges need to be enabled to utilize all of the functionality in the Amazon Polly for WordPress plugin. Once that user has access to Amazon Polly, Amazon S3, and Amazon Translate, completing the plugin installation is easy.
Amazon offers a 10-Minute Tutorial on how to get up and running. Another good installation resource is this AWS News Blog article.
For the real estate agent who is investing the time to blog, using Amazon Polly for WordPress to create a podcast is a no-brainer. With little effort, it provides another channel to reach home buyers and sellers.
Listen to this post...